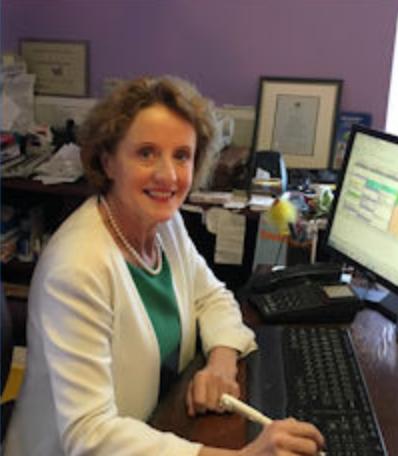 Moira Noone is an experienced nurse practitioner who works full time in the practice as Advanced Nurse Practitioner. Moira trained and worked at University College Hospital Galway and holds a degree in Nursing, Higher Diploma in Practice Nursing and a Masters degree in Women's Health from The Royal College of Surgeons Ireland. Moira is a Registered Nurse Prescriber.
Moira also holds management diplomas in cardiovascular care, diabetic care, asthma care, well woman's health care and has certificates in family planning, cervical cytology and breast awareness care. She is a Clinical Trainer for the Irish Cervical Screening Programme (National Cancer Screening Service.)
Special interests include:
Women's Health.
LARC Contraception-insertion of the Mirena, Jaydess and Copper Coil and the insertion of Implanon (implant device) and removal of, and follow up care.
Sexual Health for Teenagers, including STI Screening & Education.
Cervical Smears (eligibility 25 yrs to 60 yrs).
Emergency Contraception.
Travel Vaccinations.
Management of Asthma & Diabetes.
Health promotion and lifestyle advice.
Weight Management.
Chronic Disease Management.
Teenage & young Adults Consultations.
Education & Awareness of all aspects of Health.
Qualifications:
FFNM RCSI.
MSc.
BSc.
H Dip Nursing.
FPC.
RGN.
Clinical Nurse Specialist.
Advanced Nurse Practitioner.